Looking for Logitech G700s mouse gaming software & driver for Windows 10 & mac, then, you are in the right place. Here, this article will guide you on how you can download and install the software for G700s gaming mouse. If you are wondering which software to choose for to customize G700s mouse. Let me tell you that both Logitech gaming software and G Hub has the potential to create macos, add programs to buttons. But, if you tell which softeare could best your mouse? I would say the Logitech gaming mouse. Because it has many advance fetures like create new profiles, record a multi key macro and more.
Logitech g700s software windows 10
I always recommened my article reader, logitech g700s software download should done from original official website. So, if you want maximum output from this mouse, you can install it's software. First, I will show you what is the best feature you are receiving on gaming mouse G700s then, we will move into Logitech gaming software g700s downloading and installation in Windows 10.
What is logitech gaming software g700s?
Logitech gaming software is compatible with G700s gaming mouse. It offers your mouse to set profiles on each game and make mouse buttons programmable. So, what are you waiting for download the software now. You can download its software from the official Logitech website. But, for your ease, we have provided the direct link of all its compatible software below.  
Also, see,
Logitech gaming mouse m310 driver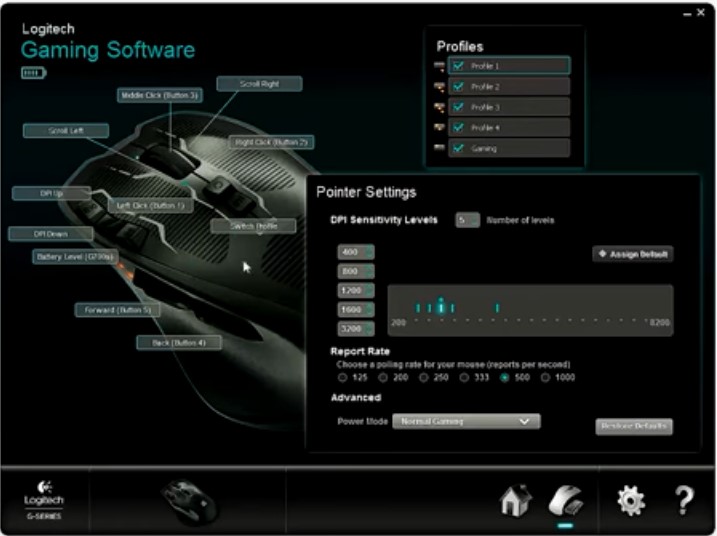 The process to downloading gaming mouse G700s software drivers from Logitech for Windows 10
In this section, you will get an idea about the download process of Logitech gaming software for the G700s rechargeable mouse. So, follow the steps to download the software carefully:
Firstly, you need to browse for https://support.logi.com/.
Then, you need to choose the device type under "Find your product" or you can search your product namely "G700s gaming mouse" in the search panel.
A web page will open redirecting to Logitech G700s rechargeable mouse section.
In the Logitech G700s mouse, you will find the downloads section listed in the sidebar of the webpage.
Under "Downloads", you will find the Logitech gaming software to download.
Once downloaded, double click on it to start the installation.
Upon completing the installation process, a "Thank you" window will appear.
Finally, click on the "Finish" button and enjoy the gaming software.
Download Logitech g700s drivers for windows 10
The Logitech gaming software is designed for Logitech gaming mouse's, webcam, and headphone's. With this software, you can customize programmable buttons, edit games profiles, change logo color, and much more. Without this software, your G700s mouse acts as a normal mouse. This software work on both Windows 10 and macOS.
| | | |
| --- | --- | --- |
| Filename | Supported OS | File link |
| Logitech G Hub software | Windows 10 32/64 Bit   Windows 8.1 32/64 Bit Windows 7 32/64 Bit Windows XP 32/64 Bit and mac OS | View link |
| Logitech gaming software | Windows 10 32/64 Bit   Windows 8.1 32/64 Bit Windows 7 32/64 Bit Windows XP 32/64 Bit | View link |
What to do if Logitech gaming software G700s not working in Windows 10
These days, there is a common problem with the updated Windows 10. Many of the users have undergone this issue with Logitech gaming software in Windows 10. But none of the experts have been successful in fixing this issue permanently.
You can follow the below steps to fix this issue:
Visit "Control panel" from your PC or laptop. Under that, you will find "Device manager".
Click on it and search for your gaming mouse on the device list. If you see a yellow mark beside your Logitech driver, right-click and uninstall it.
Then, reinstall the gaming software and restart your PC or laptop for better performance.
Updating the driver might help you to get rid of this problem.  IObit driver booster pro is an amazing software that makes your device driver up to date.
Download the IObit driver booster pro
Install the software.
Now, this software lists all the outdated drivers present on your PC
Find the driver you want to update, click on update.
That's it
Features on Logitech g700s
All the gamers might have a keen interest in downloading Logitech G700s software in your device. But before proceeding to the download process, just have a brief idea about the Logitech G700s features which may amaze you the most.
Here, we are listing down the features of the G700s gaming mouse:
Logitech G700s gaming mouse can charge up during the game with the help of a USB connector. This wireless gaming mouse gets connected to a data-over-cable connection to your device while charging AA NiMH batteries without interrupting the game.
With a 1ms report rate, Logitech G700s rechargeable gaming mouse works with 2.4 GHz wirelessly or with a USB cable. Besides this, Logitech G700s is approximately eight times faster than any wired mouse.
This gaming mouse is featured with 13 programmable buttons that can set with the user's game command. The user can also reassign the commands to those programmable buttons for convenience.
It has a memory to store up to 3 different personalized profiles with the programmable buttons for different games. You can configure the mouse in other PCs also.
Logitech G700s has the DPI ranging from 200 to 8,200 which helps to track the mouse speed during the game. Even, you can set different DPI range in a single profile.
The G700s rechargeable mouse makes the use of Logitech gaming software to drag and drop settings in your customized profiles in the on-board memory.