Facing difficulties for Logitech C922 software download on Windows 10 and Mac, Today I will try to guide you on how you can get the right software for your C922 HD webcam. It is a high-quality webcam with the help of which you can record live streaming and live gaming for your YouTube videos. If your searching for Logitech C922 pro software for capture photos and record videos, then, there are three software that can be used. After I reading the manual, These are Logitech capture software, Logitech camera setting, and G HUB. You can use any of them for capturing videos and photos. After installing this software on you can set up a C922 camera setting easily. Good news! it can be installed in Windows 10 and Mac OS. So, what are you waiting for, download HD pro-Logitech G922 software on Windows 10 and Mac PC.
| | | |
| --- | --- | --- |
| Filename | OS support | Link |
| Logitech capture software | Windows 10, 8.1, 7, XP and macOS 10.14, 10.13, 10.12. | Visit now |
| Logitech camera setting | Windows 10, 8.1, 7, XP and macOS 10.14, 10.13, 10.12. | Visit now |
| Logitech G Hub software | Windows 10, 8.1, 7, XP 32/64 Bit and macOS 10.15, 10.14, 10.13, 10.12. | Visit now |
| Logitech gaming software | Windows 10 32/64 Bit Windows 8.1 32/64 Bit Windows 7 32/64 Bit Windows XP 32/64 Bit and macOS 10.15 macOS 10.14 macOS 10.13 macOS 10.12 | Visit now |
Also read,
Logitech C310 software download for Windows 10 and Mac
Logitech C922 webcam features and specs
Logitech is one of the most leading companies in the webcam market. With its vast HD webcam list, it is ruling over the competitors' companies. Among this list of webcams, the Logitech C922 HD webcam is the best webcam available with its amazing design and technology.
According to Amazon, this product comes on the top webcam Selling List in 2019 and it has got a good user experience when it comes to rating. Its main feature is its background replacement technology.
Let's have a look at the amazing features of Logitech G922 software listed below. These features will surely help you to get an overview of the Logitech C922 HD webcam.
Logitech C922 HD webcam can switch between 1080p and 720p for you with a single click.
720p resolution: If you are a pro gamer and happens to be live during a game with your opponent friend or any person, this 720p resolution will help you at 60 fps (frames per second). This high rate of fps is only advisable at 720p to ensure dis-interrupted and clear live streaming and game.
1080p resolution: Secondly, this webcam has an option of 1080p resolution for its users at 30 fps. If you are urging for a video call or video conference, this high-resolution camera ensures the best, clear, and smooth video streaming without interruption.
The webcam has been featured with light adjustment with autofocus technology. The light adjustment helps to tune the light required for the display for a clear view even if you are in low light surroundings. Besides this, the auto-focus technology with a 78-degree view provides you with every detail that is displayed on the screen.
The double in-built mics on either side of the centered camera lens tune out the unwanted noise from the voice and delivers a clear sound for better communication.
Logitech C922 supports vertical video calling or video conferencing. It also enables camera settings according to the users.
This webcam has additional free access to X-split gaming which includes X-split Broadcaster and X-split Gamecaster for 3-months.
Specifications
Connection Type- USB
Video Capture (4:3 SD) -N/A
Video Capture (16:9 W) – 360p, 480p, 720p, 1080p
Frame Rate (max) – [email protected]
Right Light – 2
Video Effects (VFX)- N/A
Buttons – N/A
Indicator Lights (LED) – Yes
Privacy Shade- No
Tripod Mounting Option- Yes
Universal Clip Adjustability (range)
Cable Length- 5.1 feet
USB Protocol – USB 2.0
USB VID_PID – 082D
UVC Support- Yes
Microphone- Yes
Microphone Type- Stereo
Lens and Sensor Type- Glass
Focus Type – Auto
Optical Resolution True:3MP Software Enhanced:15MP
Diagonal Field of View (FOV) – 78°
Horizontal Field of View (FOV)- 70.42°
Vertical Field of View (FOV)- 43.3°
Focal Length – 3.67 mm
Image Capture (4:3 SD) – N/A
Image Capture (16:9 W) – 2.0 MP, 3 MP*, 6 MP*, 15 MP*
About the software
Logitech camera setting software has more control over the C922 pro webcam as compared to G HUB.
Users can lock their profile, so, every time you reboot your PC all settings are saved in GHUB.
If you are using Logitech gaming software on your PC and a C922 webcam has a profile in it, then you can import that profile into the Logitech G hub software.
In GHub software, you can set up multiple profiles and apply them as you want for the C922 webcam and you can switch profiles too.
Logitech Ghub software can control exposure, contrast, saturation, white balance, the frame rate of your C922 pro webcam.
If you are using Ghub, then, no need to use any other recording software C922, ghub makes the complete solution to record any video's in high resolution.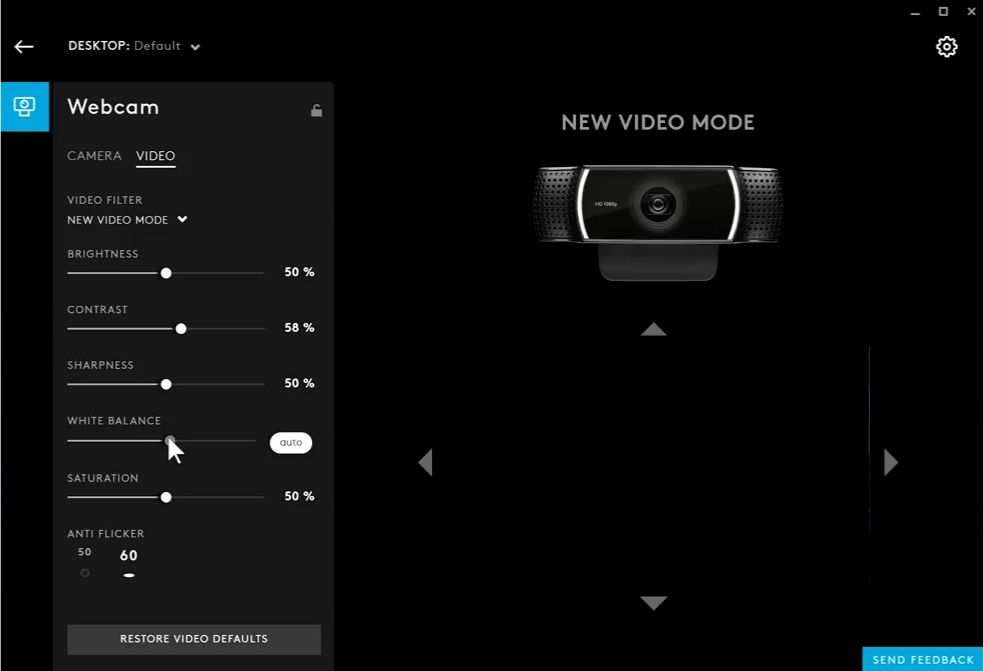 Want to record videos from Logitech C922, then, Logitech capture software is very useful for recording videos.

Logitech C922 recording software
If you installing ghub software for the Logitech C922 pro webcam, you can unlock some advanced features.
Video noise cancellation.
Background voice replacement.
Adjust camera position
Smooth buffering free online video chatting.
HD video recording.
The Process to install G hub Logitech C922 software
For better working of Logitech C922, you must have Logitech camera Settings, Logitech G-HUB, and Logitech capture in your PC/Laptop. Then follow the following steps to download this software:
Visit the link https://support.logi.com/.
Then, search for "C922 webcam" in the above search panel.
Next, tap the download button under "Logitech C922 HD webcam". You will find the required software with its current versions like Logitech Capture, Logitech G-HUB, and Logitech Camera settings.
Finally, press the download button along with the software details.
You need to install it after downloading the software file.
Choose your preferred language from the welcome window and finish the installation by tapping on the "Finish" button.
For your ease, I have added the link to download the camera setting software for c922
What to do when Logitech C922 software is not working for Windows 10
If you are facing any error during installation, you must visit C922 FAQ section, all the queries related to this product are already listed. You can read their article. At https://support.logi.com/ you will find the "community section". You can find your answer by going to their support section, if your solution is not available there, then you can also put questions.
Also see,