Logitech webcam C615 full feature software and drivers for Windows 10 (32/64 bit) and Mac OS but the problem for the users is that they are unable to find video recording software for Logitech c615. Because there are two softwares compatible with C615. One is Logitech gaming software and another is Logitech camera setting software. As far as HD webcam C615 features are concerned it has 1080p autofocus for video calling with lightning-fast calling and recording, HD light correction, and full 360 degrees view but if you don't install its drivers you won't able to access this feature. So, what are you waiting for installing the Logitech C615 software and driver for Windows 10 and Mac.
About webcam c615 software?
As I said earlier, all the features of this webcam can be controlled through its driver such as photo/video recording, online video call, background removing, object autofocus with dark removing technology. So, it becomes necessary to have a Logitech camera setting in your Windows 10/Mac PC.
The Logitech C615 software older version is not compatible with Windows 10 it was restricted to Windows 7. But the good news is that Logitech camera setting software is now compatible with Windows 10 as well as Mac OS 10.15
As we know how much importance does a driver holds for the optimal use of your device. If you are using a system with the windows, then the specifically required driver will show up. You always do not need to download the latest driver until the operating system of your system shows any signs of inefficiency.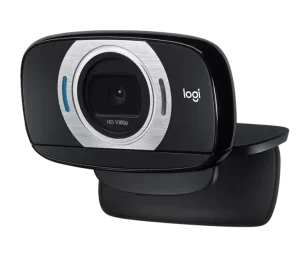 How to download the latest Logitech c615 software
It is already installed in your computer, you don't have to download it from anywhere. Follow our steps to install it from your pc, without downloading it.
How to install Logitech c615 driver in Windows 10
Basically, Logitech gives driver CDs along with the webcam, so, if you have that you simply insert the cd into your PC and start the install. If you find the CD has an older driver version, then, you need to install the latest one from here or Logitech official website.  
Now, if the Logitech C615 driver is pre-installed on your PC then you don't have to download any drivers, just make your PC connect with the internet and the driver will get the update instantly.
Step by step guidelines to freshly install in window 10
Download the Logitech camera setting software.
Run as system administration
Accept "Terms and condition"
Click on "next" to move further.
Wait! Till the installation gets over.
Finally! open the software.
Below, steps for Mac OS
You need to go to settings.
Click on security and update.
Double click on the with the hardware-specific for you.
Then select the update driver option
The final step, search for your updated driver software
How to record audio and video with Logitech c615?
Logitech camera setting software allows you to record audio and video with a C615 webcam, not only that you can change video resolution, remove background, screen sharing, zoom and adjust the camera position as well.
How to set up Logitech c615? 
Though this webcam work with G hub software but, the Logitech C615 webcam does a great job with Logitech camera setting software, all get started with installing Logitech camera setting software.
Logitech C615 troubleshooting
camera is not ready
Make sure you have not installed any third-party software for the C615 webcam, Logitech camera setting software is compatible with webcam C615. If it is not in the scenario uninstall the software from Settings > Apps > Apps & Features > uninstall. Then, restart the PC. Reinstall the software again.
keeps turning off
Make sure that the cable is properly plugged into the USB port, and even if the problem doesn't meet with the solution after doing that, then, change the USB port.
not focusing
Remove the third-party software from the PC, if you have installed it. Rather, install the Logitech capture software: that enables you to autofocus.  
Logitech hd webcam c615 not working (no video)
The solution to this problem is the same exactly the same as that to the solution regarding the focusing problem. If this solution doesn't work out then, another solution that you can try, that is uninstalling the current software that you are using, then, restart your PC > reinstall the software and again try to connect.
Logitech c615 not detected in Windows 10
There are moments when the driver is not working or has frozen, so there can be no reasons.
Check if your webcam is enabled in all the settings and options.
Ensure that you have installed the latest version of the Logitech webcam c615 software windows. There are chances that windows install updated versions automatically, but if it is not the case, then try to install it from the webcam manufacturers by yourself.
Other reasons could be that the webcam is not plugged in the correct way or properly. Make sure that the cable is properly plugged.
Logitech c615 not working
Installing or updating the Logitech c615 driver you can save recording videos on your PC. The software automatically updates the driver from time to time, but in case you have not enabled the automatic option, you can update the driver manually.
Follow the below steps to update it manually:
Go to my computer and right-click on it
Choose manage from the options that appear and then select the device manager in the left box that appear.
Click on the hardware device you wish to update if you have many hardware installed.
Choose update driver software and also select the location of which particular driver you want to update.
QNA related to Logitech C615 software
Q1: Logitech c615 how to increase resolution?
Ans: Wth Logitech camera setting software, you can record videos on different resolution 480p, 720p, and 1080p.
Q2: How to zoom with a Logitech c615?
Ans: Again, camera setting software, you can zoom video in and out.
Q3: How do I make my Logitech webcam c615 my default?
Ans: If you using two or more webcam in windows 10, and want to make C615 as default then, follow the steps below.
Search for the control panel.
Select Control Panel.
Click on View Devices and Printers.
Check that the Logitech C615 webcam is listed.
Right-click on the Logitech webcam.
Click on set Logitech C615 webcam as default.
That's it.
Q4: Logitech webcam software c615 how to switch to 720p?
Ans: Logitech camera setting software offer to switch 480p to 720p.
Logitech c615 webcam features
The c615 webcam is surely manufactured to hit your sweet spot. Unlike, Logitech C525 HD webcam, it also removes dark shadow on an object face.
The features of the c615 webcam are high powered and functional, and the reason behind it is 1080p HD moving recording along with 720 p video calls both in full HD with a Megapixel camera.
A face recognition, compatible with the USB 2.0 and Logitech's very own crystal fluid technology is some of the features which make this webcam highly operative.
The Logitech webcam software c615 windows are made compatible with window 10 onwards.
Some of the additional specs are like it has an automatic focus adjustment, 360 swivels with 1Hz processor, a 500 MB ram, and 200 MB hard drive.
Moreover, it comes with two years of full service and support warranty.
HD webcam C615 Specifications
Here are, the tech specs for the Logitech C615 webcam straight from the Logitech box itself, now another checking out the camera itself let's check out the software that runs this thing all right now.
Max Resolution: 1080p/30fps – 720p/30fps
Focus type: autofocus
Lens technology: glass
Built-in mic: mono
FoV: 78°
Tripod-ready universal clip fits laptops, LCD, or monitors
Cable length:
0.95 m
Logitech HD webcam c615 recording software and user manual download
To adjust the focus and the microphone, basic settings, video quality, correct light settings, motion detection, time-lapse, change the duration, even schedule a motion capture, and more you need to download Logitech webcam software c615, which is Logitech gaming software. You can also download the Logitech G615 webcam user manual that you need as your guide.
| | |
| --- | --- |
| Logitech webcam software c615 | Link |
Logitech HD webcam c615 software is a very popular webcam with numerous features. One cannot go wrong with the decision to install on a PC. It's reliable, stylish, and user friendly makes it easy to use.
Also read,
Logitech webcam software c920 Windows 10